15 Inspirations For You To Party Like A Mermaid
Does your child love to play pretend swimming under the sea, looking for treasures of shells and pearls? We've curated these must-haves for your mermaid party ideas!
If you don't know where to start, scroll on to find inspirations for mermaid dessert table, mermaid balloons, seashell cookies, little mermaid party bags… It's a mermaid party!
Want to host a party but don't want to prepare? Our party specialists can take up the job for you! We can assist you in planning your perfect events or get-togethers, from a single balloon purchase to planning for extravagant parties, we are your Party Hero! Get in touch with us!
1. Dreamy Mermaid Dessert Table
An anchor to a mermaid birthday party, or just any mermaid party, a dreamy mermaid dessert table! This is also a way to add all the details to the party, with the seashells, seahorses and mermaid tails on all delicious treats. Reach out to our party specialist to make this happen!
2. Let's be Mermaid Cupcake Kit 
If you are planning to bake and DIY some simple mermaid cupcakes, bring the ocean to your dessert table display with a mermaid cupcake kit, featuring patterned cupcake cases, and toppers of mermaids with shimmering iridescent foil tails, a starfish and a scallop shell.
3. Party Like A Mermaid Tableware
You would want to make everything mermaid related in your little mermaid party! Add these mermaid napkins or shell napkins to the table!
4. Shiny Blue Door Curtain 
Set the scene for the sea soirée by adding a shiny light blue door curtain throughout the party area or just let it be the mermaid birthday party backdrop. You could also easily add more touches of seashells, fishes, or other undersea creatures on it to bring it to life!
5. Sparkly Seahorse Balloon
A mermaid's party stable will definitely be a seahorse, this floating iridescent sparkly seahorse balloon will be a cute prop for photo time!
6. Pastel Balloon Garland
via Kara's Party Ideas
A great way to bring the party to life in your outdoor mermaid beach party is to add a balloon garland, the different sizes of bubbles are almost like mimicking the bubble waves made in the sea! Customize the colors of the mermaid inspired balloons with us for your mermaid themed pool party!
7. Seashell Pearl Cookies
via Smart School House
These seashell cookies match just right with the mermaid birthday party! They can be assembled with madelines, whipped frostings in colors of your choice and edible pearls!
Make these mermaid treats with pre-made madelines and frosting or homemade them!
8. Blue Mermaid Balloon  
All the mermaid princesses will want to take photos with this floating mermaid balloon! Tie a few of them with a simple mermaid party backdrop and any space can be turned into a mermaid world! Check out our mermaid party supplies!
9. Shell-ebrative Piñata 
A shell piñata is another must-have for your under the sea theme party! Fill them with candies or non-edible bits and pieces related to your mermaid inspired party!
10. Holographic Shell Party Bags
Let your guests bring home these cute shell party bags, embellished with shiny silver foil and ribbon tassels, shimmery like how mermaids love it!
11. Everything Mermaid Party Favors 
Get these mermaid party favors to stuff in the party bag or piñata to make it even more magical! The pack contains mermaid squirt toys, maze puzzles, yo-yos, prism viewers, maps with activity sheets and sticker sheets for everyone!
12. Glittery Shell Crown 
Prepare your guests these glittery shell crowns and let them complete the look at the mermaid party! They will love the shiny finish on their shell crowns!
13. Jumpy Dolphin Cups and Straws
One character you cannot miss at the mermaid party is the dolphins! Incorporate them by using these dolphin cups and straws!
14. Rainbow Mermaid Tails Cupcakes
via A Cookie Named Desire
Cupcakes are always a huge hit at a party, and so will these rainbow mermaid tail cupcakes! Start off with a cupcake of choice, top with crushed wafers as sands, buttercream color of choice and finally the mermaid tail as the topper! Find the recipe here.
15. Mermaid Party Carnival Game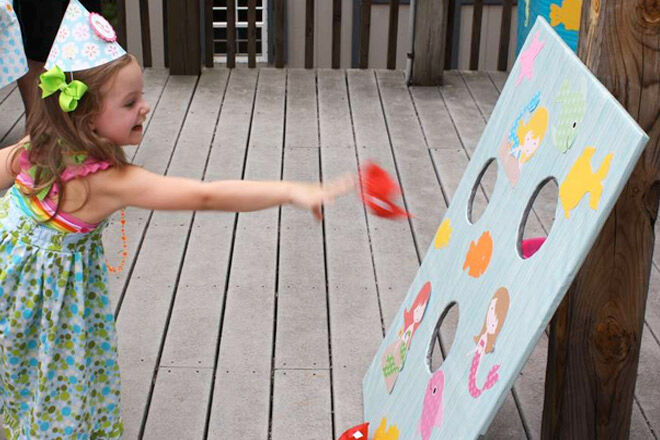 via Mum's Grapevine
Make your own mermaid theme party game by cutting out a few holes on a blue cardboard and sticking some under the sea creatures on it. Your undersea setting can be done with an easy DIY! All you need afterwards is some bean bags for the children to "feed" the fish and the octopus! Click here for the instructions.