18 Magical Unicorn Party Ideas
Calling all unicorn lovers out there!
Did your kid ask for a whimsical unicorn party? We've got your back with these amusing unicorn party ideas!
From unicorn party supplies, rainbow colored sweets, eye-catching unicorn balloon décors to unicorn themed food, this is all you need to know to throw a unicorn party!
Want to host a party but don't want to prepare? Our party specialists can take up the job for you! We can assist you in planning your perfect events or get-togethers, from a single balloon purchase to planning for extravagant parties, we are your Party Hero! Get in touch with us!
1. Dreamy Birthday Cake Toppers & Candles
No birthday is complete without a birthday cake! Whether it's bought from a cake shop or it's baked at home, add a unicorn cake topper or unicorn candle to tie in the theme! It will stand out from the other sweets on the dessert table, I guarantee you! Decorate your cake with all kinds of candles, gold star, glittery heart, swan, and of course, the unicorn!
2. Unicorn Crystal Balloons
Little kids and adults will adore this bubbly unicorn balloon stand! The crystal balloon is filled with feathers to match the fascinating unicorn party! There's also an alternative of a helium flowy unicorn balloon.
Reach out to our party specialists for unicorn party balloon ideas or installations!
3. Sweet Pastel Dessert Table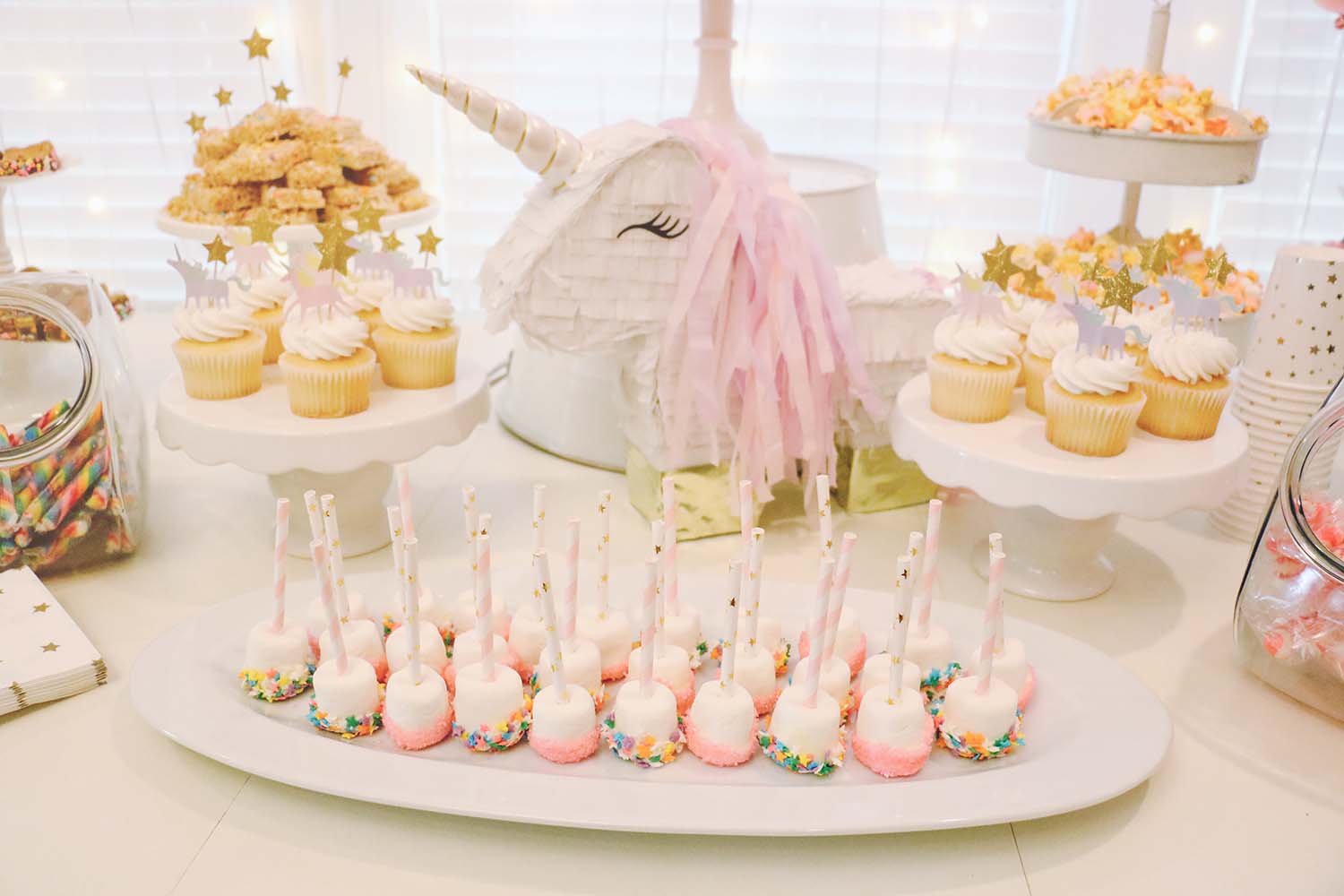 via At Home With Natalie
Parties are the occasion adults and kids get to indulge in tons of sweets! A unicorn dessert table is the place to be around with the pastel and sprinkles sweets! Whether it's the white creamy and fluffy cupcakes or the rainbow marshmallow, even parents would want to have a bite!
Contact us to build your very own dessert table with customized touches!
4. Dream Comes True Pastel Rainbow Hot Chocolate
via The Daily Meal
Who doesn't love hot choc? I mean, it's rainbow sprinkles covered, with fluffy mini marshmallows and a warm and creamy white chocolate drink. Creator of this drink will be offended to know this is not one of the unicorn party ideas! Find the recipe by Imperial Sugar here!
5. Sparkly Unicorn Crackers
Make the special meal more fantastic with these sparkling unicorn crackers. They are beautifully crafted with colorful yarn manes and tails. Each of these cute unicorns contains a gorgeous enamel hair slide, a paper hat, and a joke. Crack it up!
6. Lovely Unicorn Backdrop
A unicorn backdrop will easily become the focal point of the party. It sets the mood right away wherever you place it! Customize it with us, from the design, the font to color themes! Consult our party specialists for more unicorn party ideas! 
7. An Invitation Card Everyone Wants
Who would forget your unicorn birthday when the invitation card is so adorable? These fairytale-like cards can be kept or hung in a bedroom as a decorative wall art after the sweet unicorn party! 
8. Mystical Unicorn Shaped Party Plates
These iridescent unicorn-shaped plates are perfect for any fantastical parties! The mesmerising iridescent surface will shine all colours of the rainbow as your guests indulge in all the magical treats.
9. Unicorn Mosaic Balloon Centrepiece
Looking for something more extraordinary than the usual unicorn balloons? This will be your answer to wow your guests, little and big ones! A unicorn mosaic balloon this size will definitely be catching attention for all the snaps, and I mean, it helps fill up the corner you don't know what to decorate with! Reach out to us for this mesmerizing piece!
10. Pink Birthday Balloon Bunting
Balloons are "must-haves" in the shopping basket for unicorn decorations! These can be easily pumped or blown with a straw. All you need to do is hang them on a wall with a string and you will get an attention-grabbing piece for the party!
11. Magical Unicorn Pull Piñata
A unicorn pull piñata is definitely an essential for a unicorn birthday party! Load them with all types of colorful chocolate and candies to match with the magical rainbow unicorn party theme!
12. Eye-Catching, Unicorn-Inspired Balloon Wall
A shiny, eye-catching and pink balloon wall will make the day more magical! This unicorn-inspired decorative wall will be an awesome backdrop to get all the photos from the whimsical moments! Our party specialists are ready to assist you in planning for the big day! Chat with us today.
13. Delightful Unicorn Cupcakes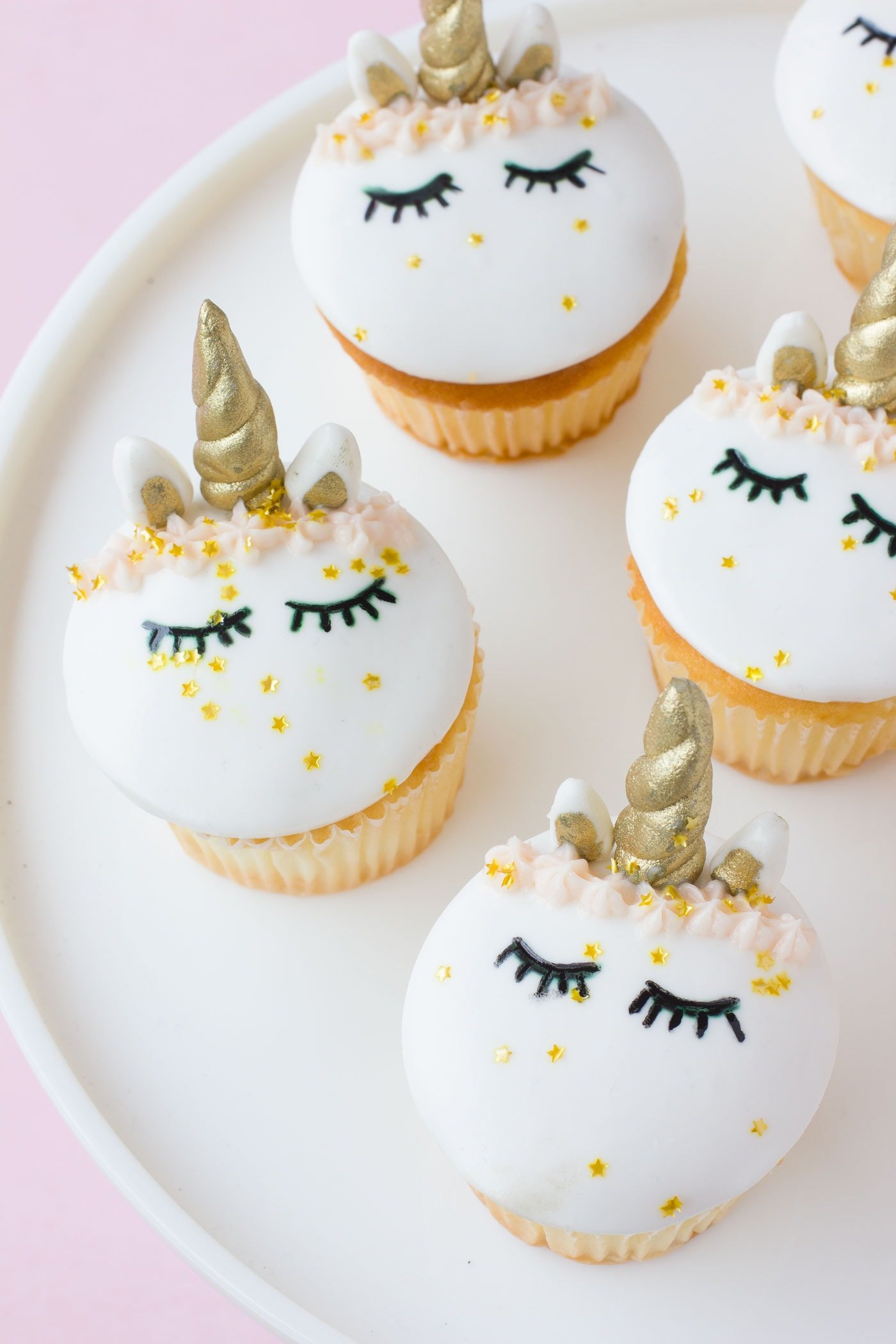 via Best Friends For Frosting
Almost everyone loves cupcakes so these buttercream frosting cupcakes will definitely be a hit! It's not as complicated as you thought with the little unicorn ears and horns made from fondants, topped with some fancy gold paint! Try to make them following instructions here.
14. Adorable Party Favor Bags
via Thrifty & Chic
These unicorn paper bags are easy DIY projects that could give you over-the-top cute results! The sparkly horns, ears and eyes can be easily traced and cut from craft papers while the floral décor could be found in art stores! Pastel sweets will be good for the unicorn candy bags!
15. Mini Unicorn Piñata Party Favor
These unicorn party favors are so cute and pretty guests would want to take home. They contain colorful confetti and two temporary tattoos: a shimmering fringing and a golden horn. They can be hung up as a décor, placed on the table or put inside party bags!
16. Glittery Ring Toss
via Style Me Pretty
You'll definitely need some games planned to shake off the kids' sugar high from all the candies at the party. A good old-fashioned ring toss is easy to make and a great sparkly unicorn-inspired DIY project to get your kids to give a helping hand ahead of the party day!
17. Sprinkle Confetti Balloons
These crystal balloons filled with purple sprinkle confetti are not only pretty but also fun to play with! Unicorn lovers will appreciate the touch of glitters in the sparkle birthday party!
18. Rainbow Party Bites
via Tastemade
If your unicorn rainbow party is welcoming guests over lunch or near dinner time, kids will definitely not be saying "no" to a rainbow grilled cheese sandwich! Everyone will be asking for a bite of this colorful, easy-to-make sandwich!
Want to host a party but don't want to prepare? Our party specialists can take up the job for you! We can assist you in planning your perfect events or get-togethers, from a single balloon purchase to planning for extravagant parties, we are your Party Hero! Get in touch with us!